Content
What is required for rent an auto
Why do you need to pay a deposit?
What is covered and not covered in car rental price in Dubai?
Consequences of state of emergency
Car payment
Receipt and return of a vechicle
Mileage limit
Does a car rental price include insurance?
Features of traffic rules and fines
Toll roads
Features of parking in Dubai
Gas stations in Dubai
Features of driving in Dubai
Helpful Hints
FAQ
1. What is Required for Rent a Car in Dubai?
  A Comprehensive Guide to Requirements and Documentation:
– Valid Driver's License:
To rent a motors in the UAE, you must have a valid driver's license from your home country or an international driving permit (IDP) if your license is not in English or Arabic. Ensure that your license is valid, not expired, and covers a vehicle category you plan to rent.
– Age Limit:
Typically, individuals need to be at least 21 years old to meet the minimum age requirement for renting a machine. However, some companies may impose an additional fee or have a higher age requirement for certain vehicle categories. Checking with a rental company beforehand is always best approach.
– Passport and Visa:
As a visitor in Dubai, you will need to have a valid passport with at least six months' validity remaining. Additionally, you must have a valid tourist visa or residency visa that permits you to drive in the country,bank card. Remember to carry these essential documents with you when renting a car. UAE residents must have:
Emirates ID or residence permit required
valid driving license for at least 1 year from date of issue
bank card
– Credit Card and Deposit:
Most companies in Dubai require a credit card in driver's name for reservation and security deposit. The card must have sufficient funds to cover rental charges and security deposit. The deposit amount varies depending on category and rental company's policies.
 – Insurance:
The rental cost usually includes basic insurance coverage, but it's advisable to check the terms and conditions to understand a extent of coverage provided. Additional insurance options, such as collision damage waiver (CDW) or personal accident insurance, may also be available.
– Driving and Traffic Rules:
Familiarize yourself with Dubai's driving and traffic rules before hitting a road. For instance, in Dubai, driving is on right side of road. It's crucial to adhere to speed limits, avoid using mobile phones while driving, and wear seat belts at all times. Familiarize yourself with parking regulations and designated parking areas to avoid fines.
2. Why do You Need to Pay a Deposit?
The customer has to pay a deposit when
renting a car in Dubai
to cover any potential damages, fines, or accidents (mainly for traffic fines, toll fines, damage, and theft) that may occur during rental period. The duration of hold is set at a maximum of 28 days due to potential delays in obtaining RTA/Police fine reports.
3. What is Included and not Included in Car Rental Price
      What's Included:
– Normal Mileage Limit: The rental price covers standard mileage limit specified in your agreement. – Standard or Third-Party Insurance: Rental agreements often include standard insurance coverage as per regulations set by Dubai Road and Transport Authority (RTA). – Delivery and Collection: For luxury or sports, cost of delivery and collection within Dubai is typically included in rental price. – Child Seats: Subject to availability, child seats can be provided for free upon request.
     What's Excluded:
– Fuel: Customers are responsible for fuel expenses during rental period and must return a vehicle with  same amount of fuel as received. – Salik (Toll) Fees: Any toll charges incurred during your rental period, known as Salik, are to be paid by customer. – Parking/Valet Service Fees: Customers must cover any parking or valet service fees during their rental period. – Mileage Surcharges: If you exceed specified mileage limit, additional charges may apply. – VAT: A 5% Value Added Tax (VAT) is applicable to total rental amount as per UAE regulations.
    Insurance Coverage:
Our service coverage includes comprehensive life and health insurance for both main driver and accompanying passengers or co-drivers. We work with reliable insurance agencies to ensure maximum security and peace of mind.
   Important Considerations:
– Exclusions in Insurance Coverage: Damage to glass, mirrors, tires, and certain other elements are not covered by insurance. In cases where you are not at fault for an accident, promptly inform us and explore a possibility of using surveillance camera footage to identify responsible party. – Reporting an Accident: In the event of an accident, regardless of fault, contact police at 999 and notify your insurance company. The police will arrive to document incident, providing a red paper to responsible party and a green one to opposing party. – Super CASCO Option: If you are concerned about potential accidents and prefer not to bear any responsibility, you can opt for Super CASCO insurance, although this option comes at an additional cost. You can select this option during car selection process. Understanding what is included and excluded in auto hire price in Dubai ensures a transparent rental experience. Take note of fuel expenses, toll fees, parking charges, mileage limits, and VAT, as well as insurance coverage details. By being aware of these factors, you can confidently choose best car rental option that suits your needs while exploring Dubai.
Consequences of state of emergency
Minimum rental period is 2 days (48 hours).
Minimum driver age is 25 years. A driver aged 21-23 years old in case of a red police report must pay 15% of amount of insurance bill.
A driver with resident status must have a valid driver's license acceptable to the UAE authorities, aged 1 year.
The driver with visitor/tourist status must have an international driving license and a national driving license that is 1 year old.
Do not export cars outside territory of the UAE.
Vehicles are designed for use on paved roads only. The Owner will withdraw a vehicle, remaining rental period and deposit will not be refunded, AED 20,000 will be charged if  Tenant uses a vehicle for rental, rally, racing, drifting, any type of off-road application (including desert driving, etc.), when passing through puddle, insurance does not cover any damage or loss if the vehicle is used for these activities. In the event of these violations, Renter is fully responsible for any damage.
Only the names of drivers mentioned in agreement may drive a vehicle. The owner will charge AED 2,000 if machine is driven by an unregistered person.
Do not sublease or transfer a vehicle to third parties or use it for illegal, criminal or other purposes other than those for which a vehicle is intended. The insurance does not cover if auto is used for these activities.
Renter is not allowed to drive over 150 km/h, if driver exceeds this speed limit, he will be warned and will receive a fine of 2000 for first violation. In case of repeated violation, Owner will turn off car, and remaining rental period and deposit will not be returned.
Employer assumes all obligations and pays all fines and other related costs incurred due to violation of traffic rules, municipal and local laws.
Traffic fines and a Salik deposit of AED 2,000 (AED 5,000 ) will be held as a deposit for 30 days from date of return.
Owner charges a service fee of 10% of all traffic fines.
Owner will charge AED 5 to pass through Salik Gate.
Owner will charge AED 800 for each damage to bodywork or scratch on the paint of auto, as well as wheels of car, resulting from careless and improper use of vehicle.
Compensation to Owner in the event of a violation by Tenant of terms of contract and causing damage, loss or theft of vehicle or part thereof for any reason, regardless of its fault or fault of driver, to pay amount of all losses and expenses incurred by owner (including, but not limited to, cost of replacing or restoration, repair costs, depreciation compensation, fines, etc., and all loss of income)
In the event of an accident or damage, Renter must not remove a vehicle without informing police and calling police.
Inform the Owner immediately in case of an accident, call police
Renter shall pay to Owner AED 1,500 for damages incurred from simple repairs to vehicle. This amount is paid in all cases where accident was caused by fault of driver or a third party. If for any reason it is not possible to obtain a police report for an insurance claim, Renter will pay all expenses for repair of vehicle, damage to third parties. Under UAE law, a traffic accident will not be removed from scene when police have inspected a vehicle.
Do not repair  vehicle by unauthorized persons.
You must make sure that all fluids and tire pressures are maintained at required level, and accept financial responsibility for any damage from using a vehicle below specified required levels.
One-way delivery or return vehicle charges are AED 100 at Dubai Airport, AED 250 for Sharjah and AED 800 for other Emirates.
The employer pays AED 1,000 for dry cleaning in case a machine is returned with cigarette smoke or dirt.
Return a car in good condition, without obvious defects / damage, with all documents and accessories.
Renter must return an auto with same level of fuel on which he received it, or pay 1.5 times  actual cost of fuel.
If car is returned before the end date of contract, Owner will not refund  amount paid for  remaining rental period.
The Owner has the right to seize a vehicle and terminate a contract, take possession of  vehicle and charge an early termination fee if  Renter abuses a vehicle for illegal or criminal activities, has frequent accidents (2 or more), 2 or more traffic fines, does not pay rent, fees or any other amount due to owner in excess of 3 days from due date.
Sky Luxse Car Rental Dubai: Offering Flexible Payment Options for a Hassle-Free Experience
When it comes to
luxury car rentals
in Dubai, Sky Luxse has been a trusted name in industry. Not only does Sky Luxse offer an impressive range of high-end vehicles, but they also prioritize customer convenience through their flexible payment options.
– Acceptance of Multiple Currencies:
To cater to a wider audience, we gladly accept payments in different currencies. Whether you prefer to pay in USD, EUR, GBP, or any other major currency, you can rest assured that Sky Luxse will accommodate your needs seamlessly.
– Convenient Payment Methods:
Recognizing the importance of convenience, Sky Luxse offers various payment methods to suit each customer's preference. From traditional payment methods such as credit and debit cards to modern options like mobile wallets and online banking.
– Bespoke Packages:
Sky Luxse goes above and beyond by offering tailor-made packages for customers with specific requirements. Enjoy the ultimate luxury experience while having the flexibility to pay according to your chosen package. This personalized approach sets Sky Luxse apart from other car rental providers in Dubai.
– Transparent Pricing and No Hidden Charges:
One of the reasons why customers trust Sky Luxse is our commitment to transparent pricing. With no hidden charges or unexpected surprises, renting a luxury car becomes worry-free. All costs are clearly outlined in the booking process, making it easier to budget your expenses. Online car booking Sky Luxse in the UAE stands out as a go-to provider, not only for their impressive fleet of vehicles but also for its flexible payment options. With the acceptance of multiple currencies, convenient payment methods, coach and bespoke packages, transparent pricing, and exceptional customer support, Sky Luxse aims to make your rental experience effortless and enjoyable. Experience the pinnacle of luxury and convenience through Sky Luxse.
Receipt and return of a car
The procedure for getting a rented car in Dubai is very simple and takes 20-25 minutes. You need to be there on time, have the documents specified in paragraph 1 with you Before signing the contract, carefully inspect a machine and note any damage on diagram. Just in case, you can take it from all sides in a photo or video. Make a deposit and remaining amount of your order. To return a car:
Don't be late;
Wash your car;
Make sure there is right amount of fuel in tank.
Magical and captivating Dubai is waiting for you!
Mileage limit
The mileage limit is set per day (per day of rental), and is 200-350 kilometers per day. That is, if you rent a car for 7 days, then your mileage limit will be 1400-2450 kilometers for entire rental period.
Does the car rental price include insurance?
Yes, according to RTA (Roads and Transportation Authority), all rental cars must have basic insurance. Therefore, prices displayed on site include basic insurance. However, additional coverage such as CDW (collision damage waiver) is subject to a charge.
Features of traffic rules and fines
Driving in the UAE is quite easy. The roads are in excellent condition, rules are similar to European ones, and road signs are duplicated in English, but police follow them very strictly. Violating is quite expensive, average fine is 400-500 dirhams (-$109-136). We do not recommend violating: police strictly monitor compliance with traffic rules. Travel on toll road sections is paid by Tenant. The quality of roads in the UAE is chic, with right-hand traffic. All signs are recognizable, and  inscriptions on them are duplicated in English. You can drive a rented car in the Emirates only if you have an IDL complete with a national driving license. Punishment – 5000 AED (-$1360). There are general speed limits in the country: on small streets – 40 km/h, on main roads – 60-80 km/h, on highways 100-120 km/h. But basically, speed limit is regulated by signs. It is forbidden both to exceed the speed limit and to go slower than established limit if there is one on this section of  road. According to statistics, 90% of fines among tourists arise in connection with speeding.
We recommend that you strictly observe the speed limit, even if you have learned somewhere that you can exceed a little. In different emirates of country, non-recorded speeding is different. For example, in Abu Dhabi there is no speed buffer at all, they are even punished for exceeding 1 km / h.
Penalties
:
exceeding up to 10 km/h – 400AED (-$109)
up to 20 km/h – 300-500AED (-$82-136)
up to 30 km/h – 600AED (-$163)
up to 40 km/h – 700AED (-$191)
up to 50 km/h – 800-1000AED (-$218-272)
up to 60 km / h – 900-1500AED (- $245-408), car confiscation is possible
more than 60 km/h – 1000-2000AED (-$272-545), confiscation possible
more than 80 km / h – 3000AED (- $817), confiscation and deprivation of rights is possible
driving slower than the specified speed limit – 200-400AED (-$54-109)
The size of  fine depends not only on severity of  violation but also on the emirate where it occurred.
Seat belts are mandatory for all passengers. Ignoring will cost 400 AED (-$109). It is forbidden to use a mobile phone, apply makeup, and smoke while driving – 200-800AED (-$54-218) Do not eat or drink drinks while driving. At roundabouts, cars moving in a circle have priority, unless otherwise indicated on relevant road signs. Violation will cost 500 AED (-$136). Driving at night or in fog without headlights on, ignoring turn signals – 100-400AED (-$27-109). Pedestrians should be allowed to pass at pedestrian crossings. For violation – 500AED (-$136). A child seat is mandatory for passengers under 10 years of age. Passengers under 10 years of age can be transported in front seat. Violation – 400AED (-$109). It is forbidden to smoke in auto if there is a child under 12 years old in a car. Also, do not leave children and animals in the vehicle unattended. You can't stop on a track without a good reason – 500-1000AED (-$136-272). Travel to a red traffic light – 800-1000AED (-$218-272). Ignoring road signs – 500 AED (-$136). Failure to keep a sufficient distance while driving – 400AED (-$109). Throwing garbage out of window – 500-1000AED (-$136-272). Road racing – 2000AED (-$545). Special purpose vehicles should be allowed through ambulances, firefighters, motorcades, and convoys – 200-800AED (-54-218). Driving while intoxicated or under influence of narcotic substances – deprivation of rights, confiscation of the vehicle, possible arrest.
Payment of fines
Violations recorded by cameras, radars or police themselves are entered into a common electronic database. Fines are published on website of  traffic police with a delay of 3-4 weeks. That is why deposit is returned after this period.
How to check if there is a fine
Go to Dubai Police website www.dubaipolice.gov.ae
In  "T.C No." section enter a car number and captcha.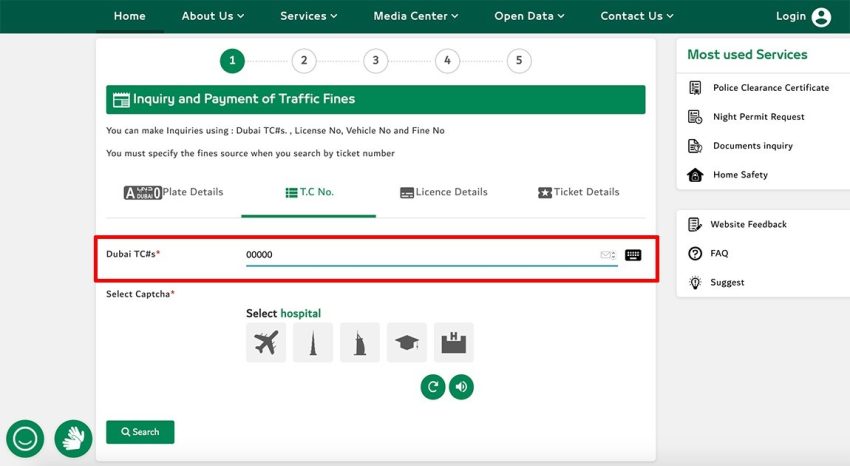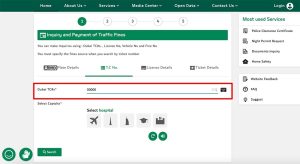 The site will display a statement of ALL unpaid car fines. Check ONLY your rental dates.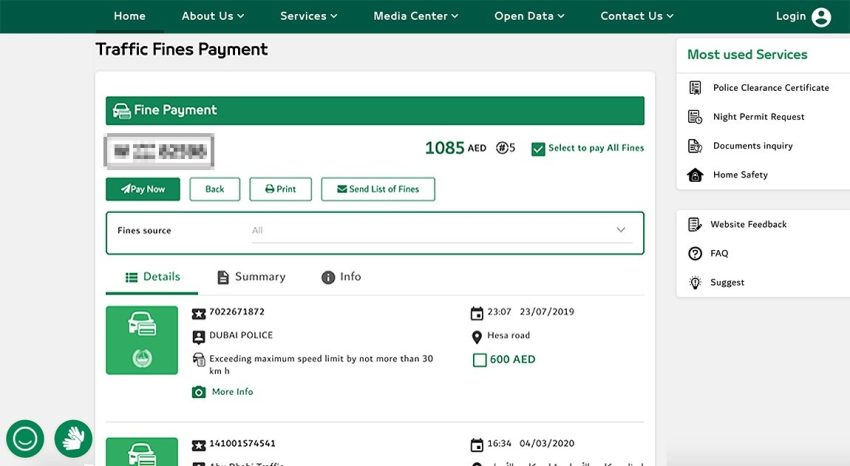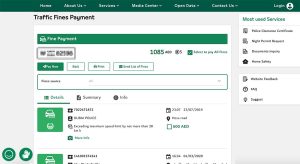 How to pay
On-site law enforcement officers do not accept payment. You can pay on your own at police stations, as well as at police service centers in large malls. The Transport Department accepts cash payments, opening hours are from 7:30 to 14:30.
When paying by yourself, pay close attention to whether violation date matches your rental dates. The database stores a list of all unpaid fines for car.
You can pay online through application of Ministry of Interior only with a local card (you cannot pay with a foreign card). Therefore, rental companies take on this mission. The state charges distributors an additional service fee for payment processing + VAT. Therefore, final amount can be increased by 10-15%.
On all roads of  country, there are many video cameras that record violations. You must follow traffic rules everywhere.
Overtaking the cars of law enforcement officers is not recommended. If you are stopped by traffic police, behave politely. Say hello. Show your national and international driver's license, your passport, documents, and rental agreement.
It is strictly forbidden to give bribes to police.
Ignoring the demands of authorities can cost 400-800AED (-109-218). If client violates a traffic rule, a fine will be issued. Driver is responsible for paying the fine. The vast majority of roads in Dubai are equipped with advanced speed cameras. Speed limits are clearly marked on most highways. We recommend that you always stay within speed limit. Tourists from Russia will be happy to know that in Dubai (but not everywhere in the UAE!), like in our country, exceeding 20 kilometers per hour does not entail penalties. However, on main highway of country – Sheikh Zayed Road, which passes into Dubai – Abu Dhabi highway, fines start from exceeding a kilometer, be careful! However, there is a corresponding speed limit – 140 kilometers per hour. On such roads, by the way, there is also a minimum restriction – you cannot drive slower than 60 km/h. Speed limit of 140 km/h is not everywhere, only on major highways. On other routes, there are 100 and 120 km/h. In cities, like in our country, it is 60 km/h. Exceeding more than 10 km / h is punishable by a fine of 300 dirhams, 20 km / h – 600 dirhams. There are a lot of cameras everywhere, be careful and do not break a speed limit — everything will be deducted from your deposit! In addition, "smart" cameras capture not only speed violations, but also others – an unfastened seat belt, phone conversations, and so on. In general, fines here are really high. For example, running a red light will cost more than $1,000 (AED 1,000 fine and another AED 3,000 to avoid parking a car). Not wearing a seatbelt (any passenger), parking in a place for the disabled, driving in a public transport lane – all this will lighten your wallet by very tangible amounts. Additionally, when writing off fines,  rental company will withhold a commission from you in the amount of 50 dirhams for each fine. When entering a roundabout, we let everyone pass, we occupy leftmost lane only when driving at  maximum permitted speed, instead of an obstacle on right, there is an obstacle on left (but there are practically no unregulated intersections), children are transported only in car seats (it is often more profitable to bring your own or buy in a shopping center ).
Toll roads
There are toll roads in the UAE and it is very easy to use them. So simple that some tourists do not even notice that they have been driving a rented car around them for  entire vacation. The toll collection system works with help of automatic gates, without barriers and settlement points. You can recognize an entrance to such a road only by special signs with inscription "Salik" or "Toll Gate". You do not need to stop or slow down to pass toll gate. Every time you drive through these gates, they instantly recognize your car and scan Salik sticker or car number. Money is automatically debited from the general account for rented auto. After the rental, distributor provides client with a report on debiting of money for trip from general account and withholds corresponding amount from deposit. It is also possible to withhold up to 10-15% of amount for administrative expenses for their payment. If you want to minimize the use of toll roads, set navigator application settings to "No Toll Roads". There are currently 8 gates in operation:
Al Safa (Sheikh Zayed Road).
Al Barsha (Sheikh Zayed Road).
Jebel Ali (Sheikh Zayed Road).
Al Garhoud Bridge (Sheikh Rashid Road).
Al Maktoum Bridge (Umm Hurayr Street). Free from 22:00 Thursday to 06:00 Saturday.
Al Mamzar South and North (Al Ittihad Road). You will only be charged once if you pass Al Mamzar South and North Gates in the same direction within an hour.
Airport Tunnel (Beirut Street).
Sheikh Zayed Bridge.
Sheikh Khalifa bin Zayed Bridge.
Al Maktaa Bridge.
Mussaf Bridge.
How much does a salik gate (automatic toll system) cost? The toll road system in Dubai is called Salik and you basically don't have to do anything to use these roads. Everything is automated – you drive under frame, chip on windshield is read, information is sent to the database. When crossing salik gate, the so-called gate, a toll of 5 dirhams is charged. Customers are invoiced at the end of rental process, before returning a vehicle. It is possible to pay any travel bills separately. But customers can also use part of their security deposit.
Abu Dhabi toll roads
The gates are located on main bridges leading to capital: The fare under one gate is 4 dirhams (~0.90 €), and maximum daily fee is 16 dirhams (~ 3.65 €) per car. Payment is taken from 7:00 to 9:00 and from 17:00 to 19:00 from Saturday to Thursday. On holidays – free of charge. In large cities, police constantly patrol the streets, check correctness of parking and monitor compliance with traffic rules. There are practically none on roads.
Features of parking in Dubai
Parking in Dubai is usually a combination of paid car parks and city parking zones. Parking lanes are usually large enough to accommodate all types of vehicles. The marking service, which allows you to arrange parking via SMS, is an ideal option. The fee is debited from your local mobile phone balance. Valet parking is available at most locations across Dubai. They can get you around AED 10 to AED 200 per hour. Most 5-star hotels and restaurants even offer free valet parking for those arriving in a high-end luxury or sports car. Finding suitable parking is easy throughout Dubai. The city has many open, roadside and underground parking lots. Remember that roadside parking meters must be used on certain streets. The driver is responsible for parking fees and any fines accrued. Dubai parking lots are paid and free. You can recognize them by usual signs and markings. We do not recommend leaving a car in a wrong places: fines for violating rules are issued fairly quickly.
Paid parking
Most parking in Dubai is paid. They are public and private.
Municipal
Municipal parks are operated by RTA. The cost of a parking hour depends on area of city, type of parking and length of stay. Payment is taken from 08:00 to 22:00. There is no charge on Fridays and public holidays. RTA parking areas Category 1 covers central business districts of  city: Deira, Jumeirah, Bur Dubai, Dubai Marina, etc.
Prices:
Seats along the sidewalks – 4 dirhams (- $ 1.10) per hour. The maximum stay is 4 hours.
On-site parking: an hour – 3 AED (- $0.80); day – 20 AED (- $5.45).
Category 2 includes all remaining areas, mostly residential areas.
Prices:
Along the streets
Areal
Duration clock
Price AED / $
Duration clock
Price AED / $
1
2 / 0,55
1
2 / 0,55
2
5 / 1,35
2
4 / 1,10
3
8 / 2,20
3
5 / 1,35
4
11 / 3
4
7 / 1,90
24
10 / 2,70
A special parking zone in DMCC – JLT area is paid at its own special rates. The cost is charged around  clock and varies from 4 to 10 dirhams (- 1.90-2.70) per hour.
Ways of payment
You can pay for
parking a rented car
in several ways:
Parking meter. Parking meters are old and new. The old ones still issue coupons, which must be left on dashboard so that inspector can see them. But new coupons are not issued – just enter a number of car and you're done, all data gets into a single electronic system, with help of which they check a payment even through cameras.
Parking meters accept coins and Nol transport cards, so change and have changed with you. Bank cards and paper money will not work.
From a local operator's SIM card, you can send an SMS to 7275 in format "auto number – parking code – duration in hours" and  money will be debited from your balance. Detailed instructions are on each parking meter.
RTA Dubai app (Play Store, App Store). You will need to enter your auto number, parking code, and time into it. Payment is taken via SMS.
Private parking
Private car parks can be recognized by presence of company's name on  "P" sign. Also, many hotels, restaurants, cafes, and shopping centers have their own parking. The cost is different everywhere, you can check it in advance on website of place where you are going.
Many establishments provide free parking hours for their customers.
The conditions for obtaining such watches vary everywhere, somewhere it's enough just to come to institution, but somewhere you need to spend a certain amount and provide a check.
Free Parking
You can park your car in Dubai for free:
in city parking lots at night. Friday and holidays are free around the clock;
in some cafes, restaurants, hotels, and shopping centers, if you are their client;
in development areas where parking meters have not yet been installed.
Fine
Unpaid parking – 150 AED (- $ 41).
Not extended – 100 AED (- $ 27).
In  wrong place – 200 AED (- $ 54).
On spot for disabled – 1000 AED (- $ 272).
Parking with the engine running – 300 AED (-$82).
You can check the existence of a fine for a certain period on website www.rta.ae, but you can only pay it with a UAE credit card. If you violated the rental car, and you do not have a local credit card, do not worry. The rental company will pay your fine and then provide you with a statement and deduct appropriate amount from deposit.
Gas stations in Dubai
Refueling in the UAE is very simple. The driver does not even have to leave a car, you can simply lower glass and tell an employee what kind of fuel and how much to fill. It is also not necessary to know Arabic, you can explain yourself in English. And if you do not know it, just name a type of fuel and give the required amount in cash without change – they will refuel without problems. The UAE is an oil-producing country, so fuel here is cheaper than in many European countries. Cost for January 2022:
Gasoline Special 95 – 2.42 AED (- $ 0.66);
Super 98 gasoline – 2.53 AED (- $ 0.69);
Diesel Diesel – 2.57 AED (- $ 0.70).
There is no particular difference in gasoline prices between the emirates where there is oil (Dubai, Abu Dhabi) and those where it is not (Fujairah). There are enough gas stations on main routes, there is no need for a large supply.
Payment by card
Of course, you can pay for fuel with a card, tankers have portable terminals.
Sometimes it is more convenient to pay in cash because when you pay with a card, about 80 dirhams (~ $ 21.78) are frozen on it, even if you refuel for a smaller amount. The rest of the money on card is not returned immediately.
Usually in 1-2 days, but there are cases when "transaction in processing" is a week or more. The most popular filling stations in the Emirates are ADNOC and Emarat. But you can refuel a rented car on anyone, quality is excellent everywhere. As a rule, a gas station in the UAE is a small oasis with a car wash, service, and a store. There are cafes and even a mosque.
Tips
At some gas stations, an additional fee of 10 dirhams (-$ 2.72) is taken for services of tankers. The service includes washing a windshield, checking tire pressure, as well as small discounts at convenience stores at gas stations. "Tipping" is not charged everywhere, but only where Premium is written on columns. In the ADNOC network since November 2019, service is free. By the way, people with disabilities and pensioners are not required to pay 10 dirhams, even for premium services.
Self-service gas stations
There is a Self-Service system in the Emirates, but it has not received wide distribution. Although local gas stations tried to attract customers with preferential prices, in a hot and humid climate, you don't really want to get out of an air-conditioned car in order to save small, by local standards, money. Self-Service Columns are located along Sheikh Zayed Road. They only work at night when it's not so hot. From 0:00 to 6:00. All inscriptions are dubbed in English.
Features of driving in Dubai
What you need to know before signing a contract To make your vacation and travel memorable for you only with pleasant impressions, when renting a car in the UAE, consider following:
Traffic in the United Arab Emirates is on the right.
It is customary to move along a central lanes (the outer lanes are left for special cases).
Be sure to fasten your seat belts – this is carefully monitored by representatives of the UAE authorities.
Speed limits when driving in a city – 40 … 80 km / h, and on highway – 100 … 120 km / h. Please note that there are radars on all roads, and fines are issued and sent to company from which a car was rented. The fine for speeding varies from 200 dirhams.
If you violated the rules of a road by renting a car, your driver's license may be taken away. Do not even try to bribe a police officer, as you may face criminal liability for this.
In addition, so that auto hire in the UAE is not overshadowed by a fine, please note that only residents can carry alcohol in a car, and then with a special license.
Renting a car in Dubai is a profitable and convenient way to get the most out of your vacation. Fill out an application on our website or contact us at specified contacts – an auto will be delivered at a convenient time and place for you!
Helpful Hints
If there is a traffic jam on the main road, it is customary to pass cars entering from a secondary road in a checkerboard pattern.
Not all drivers use turn signals. Be careful while driving.
By turning on the hazard lights, drivers show that they are slowing down.
If you get into an accident, immediately contact the manager of  hire company, he will tell you what to do.
Be restrained in gestures. In Arab countries, it may have a different meaning and may be perceived as an insult.
Do not leave equipment and food in the car. The heat causes appliances to overheat and food to spoil.
FAQ
Can I use someone else's credit card to pay rent?
It's not a problem at all. But keep in mind that this person will automatically be listed as the second driver. Therefore, all documentation and driver's license must be ready and available before picking up a car.
Can my friend or family member drive the car I rent?
Yes. Most car rental providers using Renty platform offer this service. There is often an additional fee. However, as long as a driver has a valid driver's license and documentation, there is no reason why he cannot enjoy driving a vehicle.
What coverage will I get under standard insurance?
In the UAE, Highways and Transportation Authority (RTA) requires all rental cars to have basic insurance. Any vehicle rented from us will be insured and ready to drive. In unlikely event of an accident, police must be contacted, who then file a report. Basic insurance only covers damage to vehicles by third parties. For an additional fee, you can get a CDW – Collision Damage Waiver. This increases insurance to cover accidental damage by the driver.
Is it possible to extend the car rental period? What is the payment procedure?
Of course. Extending the rental period of any car on our platform is easy. Just contact us, we will confirm the availability of auto. After initial contact, a representative will contact you to agree on an extension of  lease and arrange payment.
Is there a mileage limit? Do you charge extra if I go over the limit?
All vehicles listed on site come with a standard mileage limit. The number of miles granted usually depends on length of rental agreement. It is possible to negotiate a price for a custom-made mileage package. In most cases, exceeding specified mileage entails additional costs. Knowing exactly how many miles you plan to drive is a great way to stay within your budget.
What kind of cash costs to expect when renting a car in Dubai?
Renting an auto in Dubai is relatively inexpensive. But it depends on a type and prestige of the vechicle. High-end supercars inevitably cost more than budget brands. Economy machines can be rented for around AED 100 per day. SUVs are available from AED 300. Whereas luxury brands and supercars can cost over AED1000 per day.
What is the amount of advance?
When booking, you make only an advance payment in a amount of 15-20% of rental price, and the rest is paid upon receipt of car.
Save on car rental in Dubai, UAE
Travel entails a lot of unexpected expenses if it is not properly planned. If you visit Dubai and use a taxi to get around, you will end up spending a lot of money just to get around the city. It may not seem like much to you, but it will increase quickly if you keep hiring him. Car rental in Dubai is much cheaper than in other tourist cities in the world. However, to find the best deal, you may need to do some shopping. You can certainly save a lot of money if you find a good local company.